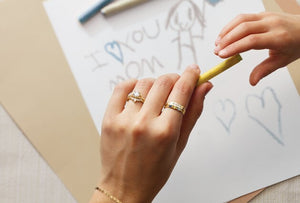 Tell your family story through the jewellery you wear.
Our family shapes us, the family we are born into and the family we make.
Our personalities, the little inside jokes we enjoy and what our values are.
Our jewellery is an extension of us and the things in life that we find important.
Jewellery is fun, it is sentimental and it allows us to carry those important
relationships around with us everyday. 

At GNM Fine Jewellers we offer both made to order and custom family jewellery.

Browse a curated selection of our made to order family pieces below or stop by the store for the full collection.
Not able to shop instore? Send us a text to 204-326-2917 for virtual assistance.
If a custom piece is your preference send us a message to set up a complimentary consultation with a member of our design team.

All made to order jewellery takes 2-4 weeks to arrive in store.
Custom jewellery needs 4-8 weeks to complete.
---
128 products